news from goehring cattle
Ryan Goehring Cattle is a family business that is located in Random Lake, Wisconsin by Ryan Goehring. Ryan possesses a true passion that centers aroun, not only breeding high quality cattle and helping influence not only our industry, but also supporting the youth that will be our leaders tomorrow.
The genetics that make up this operation have been closely selected from some of the best operations across the nation. Please feel free to contact us for more information about cattle that are currently for sale or our future offerings.
OCTOBER 10 | ONLINE SALE • 
HOSTED BY SHOW CIRCUIT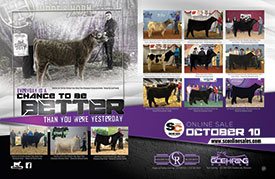 CLICK HERE TO VIEW MORE INFO